This Easy Chicken Pot Pie Recipe is great when you have leftover chicken. This pot pie is pure comfort food and easy to make. Takes only 35 minutes. And you'll make a homemade pastry, no store bought here. All I have to say is it's a winner, winner chicken dinner. 😉 Serves 4
Ingredients:
2 cups cooked chicken, cut into bite size pieces
1/4 cup butter
1/4 cup green onions, chopped
2 tablespoons green pepper, chopped
1/3 cup flour
1 1/2 cup concentrated chicken broth
1 cup milk
1 cup broccoli florets
1/2 cup carrots, sliced
1/2 cup celery, sliced
1/2 cup cauliflower florets
1 cup shredded Swiss cheese
Pastry:
1 1/3 cup flour
1/2 teaspoon paprika
1/2 cup butter
3-4 tablespoons ice water
Directions:
Preheat oven to 425F.
Divide chicken pieces among 4 ungreased 12oz cocottes. These would be cute for individual pot pies: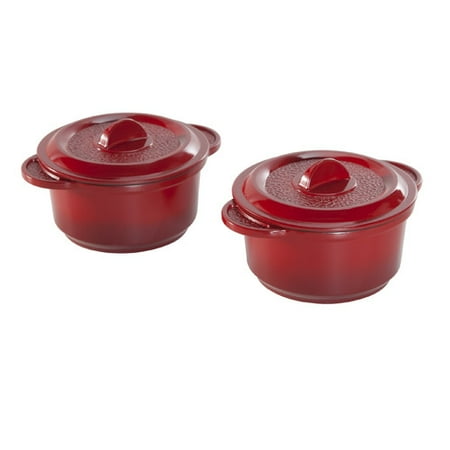 In a saucepan cook the onions and peppers in butter until the onions are translucent. Stir in the flour until bubbly then add the broth, milk and vegetables. Heat to boil, stirring for 1 minute then add the cheese once incorporated pour over chicken.
Pastry: mix flour and paprika in a bowl, cut in the butter until mixture looks like course crumbs. Sprinkle in the water and mix until it looks like cottage cheese. Gather into a ball. Divide into 4 parts.
Roll out each to fit the top of the cocottes. Cut slits to release steam. Bake 20-25 minutes, or until golden brown. Serve immediately. Easy Peasy!